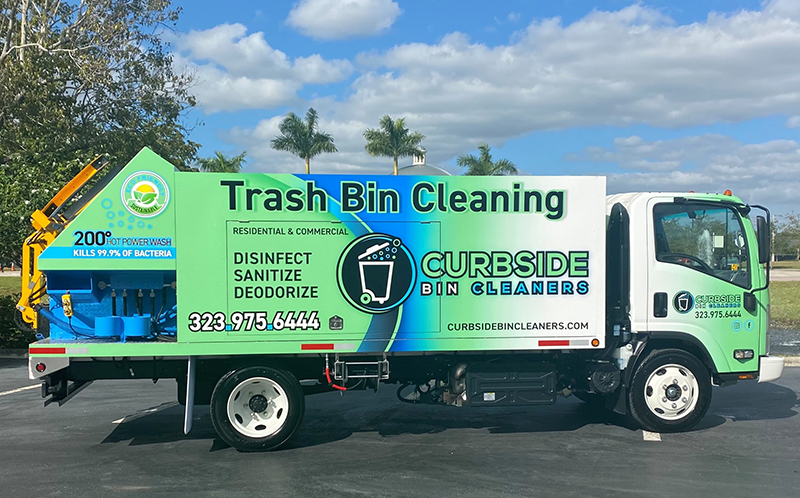 The most common question we get is how did you get in the business of cleaning trash bins? I will get there I promise, but first let me give you a little back story about us. My husband and I are both Los Angeles natives. He grew up in Pico Rivera, CA and I grew up in Montebello, CA. I moved away to Las Vegas, NV for graduate school and upon completion of my schooling, and as life goes, I ended up becoming a Nevada resident for a few years. In 2015 we got married and my husband joined me in Las Vegas. A few short months after we bought our first home.
Prior to becoming a homeowner I lived in an apartment complex I dumped my trash in a commercial dumpster and that was that. I did not have to touch dirty, smelly, gross trash bins. It was not until becoming a homeowner and a few months in, that I realize how gross trash bins truly are. Really, I was only thinking about the bad odor and that paper that appeared to now be stuck on the inside bottom of the bin. I asked my husband to clean them out but he did not think a broom and water hose would be enough. The following day he went out a bought a pressure washer to help get the job done. So with a pressure washer, soap, water, and still quite a bit of elbow grease, my husband attempted to clean out our garbage bins. The paper was still stuck to the bottom but it was cleaner than before so it was a temporary win.
Then one night our lives changed. We were having dinner when we heard noises outside. Track housing walls are not very thick and if you ever lived in track housing you know what I'm talking about. Naturally, I went to my security camera to try and see what was going on. I could see a truck, lights, and mist? At first, it did sound like the trash truck and garbage cans being moved however I knew the trash had been picked up already because I had pulled our trash bins in when I got home from work. So I thought, fire truck? It's too small. Maybe the trash company is doing repair to their trash bins? Now with my husband looking through the peephole in the door and me trying to zoom in on the camera, we decided to open the door and take a closer look. To our surprise, it was someone cleaning the trash bins. My husband and I looked at each other and knew we would be their next customer. I sent a message to my neighbor asking her about the service and how she liked it. She replied immediately with an emphatic "WE LOVE IT!" That night we signed up.
It was not until then that we truly learned how gross trash bins can be. The reason they smell is because of bacteria crawling all over them. As a fellow healthcare worker, I understand the importance of handwashing and properly cleaning and disinfecting surfaces. In addition, I didn't even realize how harmful it could be to our environment if we were to have used harsh chemicals and let them wash down our storm drain and into Lake Mead.
Fast forward to January 2020 and we were now getting ready to relocate back to my hometown of Montebello, CA. I knew I would miss our first home and the house we began to raise our beautiful girls but I also knew I was going to miss having my trash bins cleaned and smelling good. One day, a few months after the move my husband and I came to the conclusion that we had to find a way to bring this wonderful service to our community. As lifelong local residents, we wanted our neighbors to have access to a premium curbside service, without the premium pricetag. With the help of our friends and family, Curbside Bin Cleaners was born.
Thank you to everyone for supporting a small, local business like ours. We truly appreciate you!